Evangelism |
2 minute read
Ministry Spotlight: Diaspora Initiative
Today, the spiritually darkest places are no longer located in far off countries.
They are across town and even across the street. The same people groups we send missionaries to are planting roots and growing families in cities like Arlington, Plano, Irving, and Dallas.
There are 300 ethno-linguistic people groups in the Dallas-Fort Worth Metroplex, and upward of 400 people move to the area each day—70% of which are foreign born.
Despite the large number of churches in this area, many of these unreached people groups remain culturally and linguistically far from an effective witness of the gospel.
East-West is responding to this migration of peoples—known as the Global Diaspora—with a Biblical plan to access households far from Jesus and follow relationship lines back to their countries of origin.
We call this ministry the Diaspora Initiative.
How it Works
"He also said, 'This is what the kingdom of God is like. A man scatters seed on the ground. Night and day, whether he sleeps or gets up, the seed sprouts and grows, though he does not know how. All by itself the soil produces grain—first the stalk, then the head, then the full kernel in the head. As soon as the grain is ripe, he puts the sickle to it, because the harvest has come.'" –Mark 4:26-29
Based on Jesus' teaching in Mark 4, we use a four fields process—entry into new fields, gospel seed sowing, make disciples, start churches—to structure this initiative.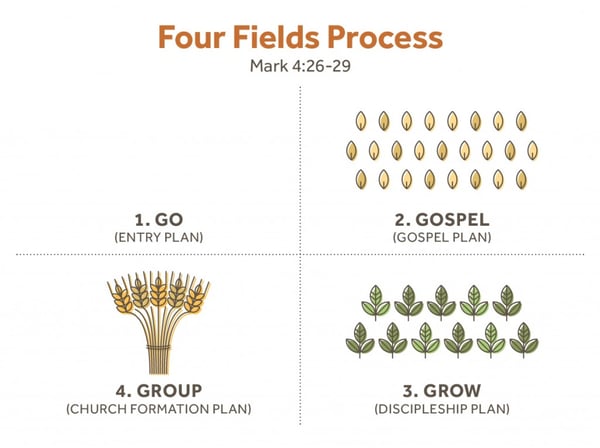 Go
This plan is focused on gaining access into an unreached immigrant community and is founded on intense, intentional prayer. Once prayed over, our missionaries enter the community in search of persons of peace. These people are open to spiritual conversations and open their communities to the proclamation of the Kingdom.
When entry is made, our teams use several approaches to build trust with community members.
Gospel
After accessing these people groups, our missionaries take them the good news of Jesus Christ.
Using their personal testimonies as a tool to spark gospel conversations, they share with persons of peace how they—like the missionaries—can be close to God. Many times the gospel is also presented through Discovery Bible Studies, letting the living Word of God go to work in their hearts.
Grow
As people come to faith in Jesus, they're discipled and build confidence and competence to follow Jesus and fish for men. Through discipleship, they learn how to study God's Word and obey Him in repentance, baptism, disciple making, prayer, loving God and others, communion, giving, suffering, and church planting.
Group
This last field is focused on multiplication.
As disciples multiply in these communities, they gather to form churches and make disciples. In doing so, God uses these zealous believers to transform their communities—and by God's grace their home countries—through the powerful gospel message.
The Diaspora Initiative is convinced that multiplication isn't confined to booming church movements overseas... it can happen at home.
The Holy Spirit is the only one that can make this happen, but Jesus allows us to co-labor with Him in prayer, planning, and obedience to impact the places we live, work, and play through the gospel.