It's no secret that East-West is dedicated to reaching the unreached and those in restricted-access nations. But what you may not know is the variety of ways that we are doing so.
Every person at East-West, whether overseas or in our home office, are using their God-given passions and skills to spread the gospel across the globe. Here are just a few of the passions and skills being put to use worldwide:
Business men helping national leaders establish viable businesses that support their ministries
Doctors using their skills and passion for healing others in Asia
Adventure-loving outdoorsmen sharing the gospel on nature trips in Russia
Break dancers building relationships and discipling young people in Mexico
Accountants using their love of numbers and order to keep East-West afloat in the U.S.
Creatives using their gifts to share the vision and mission of East-West
Administrative people supporting East-West leaders
Every gift can be used to build God's Kingdom. Any passion can spark a movement.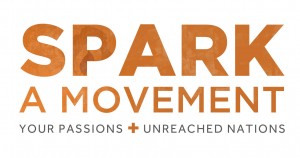 So we'll be sharing with you some of the East-West staff who are using their passions in unique ways at home and overseas … but we also want to hear from you.
What is your passion? How are you using it for the sake of God's Kingdom?